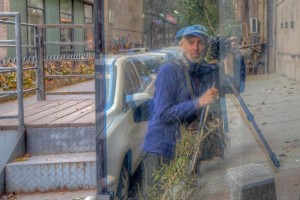 Welcome to my pages, and thanks for visiting. I still have much work to do on this site, so ask for your patience. I have many images to upload and will be adding content more or less  continuously for some time. Galleries will be added and established ones filled.
My day job consists of being a video cameraman and video editor for ZDF German TV in East Asia. I divide my time between studios in Tokyo and Beijing, and have the great privilege of traveling a lot — and not as a tourist — meeting people in all walks of life.
However my true love is not video, but still photography. Whenever possible, I throw a camera over my shoulder and wander out to see what I can find that catches my eye. For the past several years, I have tried to take my images beyond what I see in the viewfinder, either with techniques such as HDR (high dynamic range imaging), or by slow shutter speeds. I want to be surprised by what I capture.
For a number of years, I have also been enchanted with fractal images. I was first introduced to them on an old IBM 360/90 mainframe, and in the 90s was surprised to find that home computers were advanced enough to generate them. I have written a number of fractal formulae and algorithms, which I use to generate my images.
In addition, I have been involved in music for many years, and play a range of woodwind instruments.
I hope you enjoy your visit.